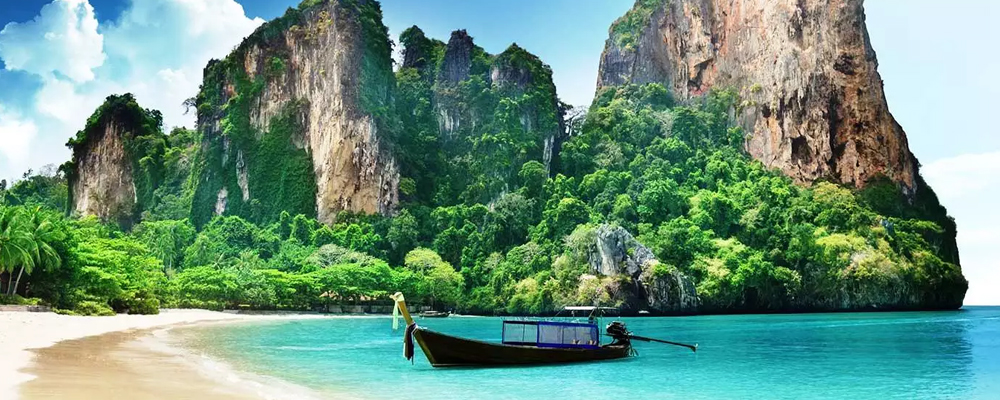 Andaman Tour With Neil Island
Duration: 6 Nights / 7 Days
Destination Covered: Port Blair - Havelock - Neil Island - Port Blair
Overview
Andaman and Nicobar Islands are the heavenly archipelago. Well-planned 6 Nights / 7 Days Andaman tour with Neil Island package takes you to the sun-kissed beaches, picture islands and popular places to visit in the island. Grab your chance to explore cerulean waters, partake in thrilling adventures and create memories at a beautiful vacation spot. Revel in the scenic beauty and other amazements of the islands. Explore Port Blair, the Corbyn's Cove Beach, Radhanagar Beach, Havelock Island, and Neil Island. Indulge in exciting sports at Rajiv Gandhi Watersports Complex. Don't forget to spare some time to get insights about the history of the islands.
Note: This is just a suggested itinerary indicative of what could be possible. We tailor holidays for your specific needs. Contact us if you want modifications so that we could tailor a holiday to suit your need for an unforgettable India tour.
Trip Highlights
Enjoy Sound and Light Show at Cellular Jail
Ferry from Port Blair to Havelock Island
Excursion to Elephant Beach
Outing to Neil Island for sightseeing
City Tour of Port Blair
Getaway to Corbyn's Cove
Enjoy Water Sports Activities in Andaman Islands
Itinerary Details
Day 1

Arrive Andaman (Port Blair), Watersports Complex & Cellular Jail visit by day and Sound & Light show at Cellular Jail

Arrive at the Port Blair Airport, Veer Savarkar Airport, our representative will meet you and assist you to your hotel. The capital city of Andaman Islands, Port Blair is famous for its pristine natural beauty and serene environment. The city offers fabulous views of coconut and palm trees, azure blue water and gleaming sand. It is one of the major tourist places in India.

Relax and rest at the hotel. After lunch, spend some time at Water Sports Complex (closed on Wednesday). Indulge in water activities at your own cost; like on-water obstacle and non-motorized watersports in a safe area of the sea known as the Aqua Fun Park. Jet Ski, speed boat ride, glass bottom boat ride, banana boat ride, etc. are thrilling. (Please carry change of clothes) or opt to relax by the seaside at Ocean Blue cafe.

In the evening, proceed to attend the fascinating Sound and Light Show at Cellular Jail (at 1800 or 1900 Hours, depending on light and sound show ticket availability) where the heroic saga of the Indian freedom struggle is brought to life with poignant music and lights. The show is sure to make your family trip to the Andaman and Nicobar Islands a memorable one.

Once you've explored the attractions in Port Blair, return back to the hotel and retire for the day. Stay overnight in the hotel.
Day 2

Journey to Havelock by Ferry from Port Blair and visit Radhanagar Beach at Havelock

Check out of the hotel and travel to Havelock Island, situated 54 kilometers away from Port Blair. The breathtaking views of beaches scattered by palm trees and coral reefs, azure blue water and amazing resorts in this island attract tourists from all over the world. The ferry takes up to 2.5 hours to reach Havelock. Upon your arrival at Havelock Island, check in at the hotel and relax for some time.

Pay a visit to the famous Radhanagar Beach in the afternoon. This beach is not only the finest beach in India but also it has been honored as 'Asia's Best Beach' by the famous 'Time Magazine'. The blue water, peaceful environment and white sand offer an overwhelming look to this beach. Here you can enjoy sun basking and stroll in the soft sand. Also, guests can partake in various adventure sports such as scuba diving, game fishing, swimming and snorkeling etc.

Post spending quality time at the beach, return back to the hotel and take rest. (Kindly remind hotel to provide packed breakfast at Port Blair since the same is not included at Havelock).
Day 3

Havelock Island: Excursion to Elephant Beach

Today you are taken for an excursion to Elephant beach. Your ride will arrive at 0700 hours as the boat to the island expedition will leave at 0730 hours. Gear up for the most memorable snorkeling, at a distance of just 25 minutes by Boat. This scenic beach with fallen trees and white sand offers tranquil shallow waters perfect for beginner snorkelers. The boat goes right up to the beach. Enjoy snorkeling or spend the day lying on the beach and relaxing. The hard coral reef here starts close to shore at a depth of about 1 metre and has plenty of marine life.

Return to your hotel for a relaxing night stay.
Day 4

Ferry from Havelock to Neil Island and sightseeing at Neil Island

After breakfast, check-out from the hotel and transfer to the jetty to board the ferry to Neil Island. Upon arrival, transfer to the Hotel in Neil Island and check-in. Set out for a sightseeing trip and enjoy at beaches of Andaman islands like the Laxmanpur Beach and Bharatpur Beach in the evening.
Day 5

Ferry from Neil Island to Port Blair

After breakfast at the hotel, check-out and transfer to the jetty. Board the ferry to Port Blair. (ferry timing depends upon availability). Upon reaching Port Blair, transfer to your hotel and spend the rest of the day at leisure.
Day 6

Port Blair – City Tour and Corbyn's Cove Beach

Start the day with an appetizing breakfast, start for a tour of places in and around Port Blair. The City Tour starts with the famous Cellular Jail, which is a witness to the Indian freedom struggle. Next is Chatham Saw Mill, one of the oldest & largest in Asia). Forest Museum, is worth your time. At the Fisheries Museum, you would explore around 350 species of marine life such as starfish, fishes and live corals. In the Anthropological Museum, the tribal culture of the region is displayed. Here you will see a huge collection of weapons, models, clothes, baskets, photographs and tribal boats etc. The Naval Marine Museum, known as Samudrika Museum run and owned by the Indian Navy is a treasure of antique collections of corals and shells etc. The museum also displays the history, geography and culture of Andaman and Nicobar Islands trip. Later, enjoy a fantastic experience of discovering the Port Blair Museum and return back to the hotel for overnight stay.

After lunch, proceed to visit Corbyn's Cove Beach. The only beach in Port Blair is ideal to relax and unwind. Proceed for local shopping.
Day 7

Departure

Take your return flight Port Blair for onward journey with fond memories of the mesmerizing Andaman and Nicobar islands trip .
Tour Map